[VERKÄUFER: Gebt den Text euer Mitteilungskarte hier ein, der auf der Produktseite angezeigt werden soll]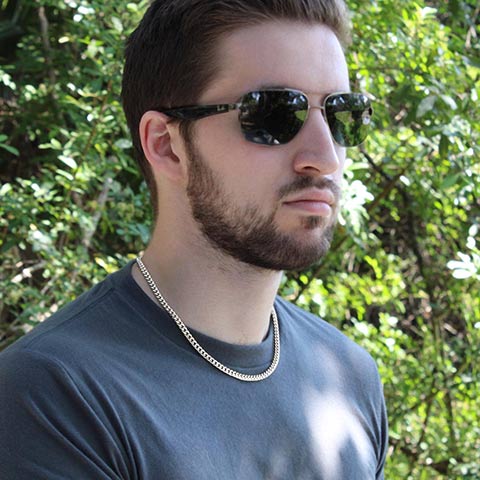 Gib der besonderen Person in deinem Leben eine klassische Halskette, die seine Stärke und seinen Stil präsentiert! Unsere kubanische Panzerkette ist das perfekte Geschenk für jeglichen Anlass, inklusive Geburtstage und Feiertage. Verfügbar in poliertem Edelstahl oder 14K Gelbgold über Edelstahl. Du kannst dir sicher sein, dass diese wundervolle, gewichtete Halskette ein Lieblingsteil werden wird, das er Tag für Tag tragen wird. Und da die Kette verstellbar ist, wird diese Halskette spektakulär an jedem Träger aussehen.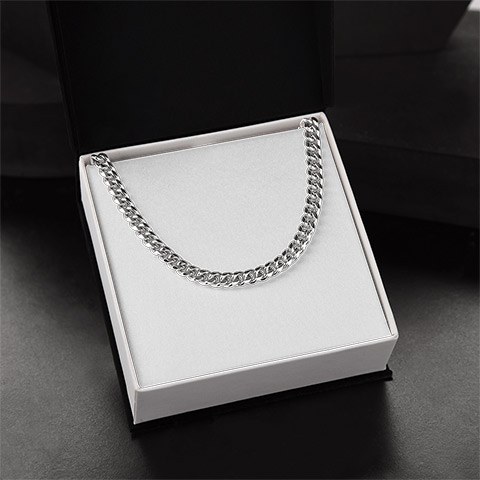 Polierter Edelstahl und 14K Gelbgold über Edelstahl
Verstellbare Länge: 18" -22'' (45,72 cm - 55,88 cm)
Breite der Kette: 5 mm
Gewicht: 28,5 g (1,005 oz)
Karabinerverschluss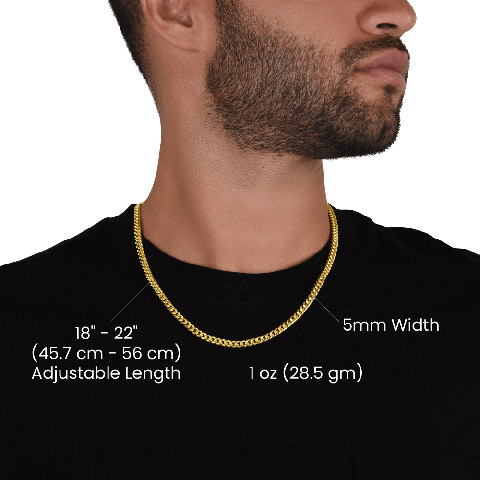 Deine Stück wird liebevoll verpackt in unserer gratis Soft-Touch Box für einfaches Verschenken. Upgrade deine Präsentation mit der Mahagonistil Luxusbox, welche einen brillanten LED-Punktstrahler aufweist.
Unique, one-of-a-kind gift

NOT SOLD in stores

USA: 2-8 Business Days
Hurry! We Sell Out Frequently
Unique, one-of-a-kind gift

NOT SOLD in stores

USA: 2-8 Business Days
Each item is handcrafted and assembled with love just for you and your loved one. Due to this, please allow 1 - 2 business days for your order to ship.
Once shipped, you can expect delivery within:
USA: 2 - 5 Business Days w/ Standard (1 - 3 Business Days w/ Expedited)
Canada: 5 - 10 Business Days
UK & EU: 3 - 7 Business Days
Australia & New Zealand: 8 - 20 Business Days
Rest of the World: 5 - 10 Business Days
[VERKÄUFER: Gebt den Text euer Mitteilungskarte hier ein, der auf der Produktseite angezeigt werden soll]




Gib der besonderen Person in deinem Leben eine klassische Halskette, die seine Stärke und seinen Stil präsentiert! Unsere kubanische Panzerkette ist das perfekte Geschenk für jeglichen Anlass, inklusive Geburtstage und Feiertage. Verfügbar in poliertem Edelstahl oder 14K Gelbgold über Edelstahl. Du kannst dir sicher sein, dass diese wundervolle, gewichtete Halskette ein Lieblingsteil werden wird, das er Tag für Tag tragen wird. Und da die Kette verstellbar ist, wird diese Halskette spektakulär an jedem Träger aussehen.







Polierter Edelstahl und 14K Gelbgold über Edelstahl
Verstellbare Länge: 18" -22'' (45,72 cm - 55,88 cm)
Breite der Kette: 5 mm
Gewicht: 28,5 g (1,005 oz)
Karabinerverschluss







Deine Stück wird liebevoll verpackt in unserer gratis Soft-Touch Box für einfaches Verschenken. Upgrade deine Präsentation mit der Mahagonistil Luxusbox, welche einen brillanten LED-Punktstrahler aufweist.

Each item is handcrafted and assembled with love just for you and your loved one. Due to this, please allow 1 - 2 business days for your order to ship.

Once shipped, you can expect delivery within:

USA: 2 - 5 Business Days w/ Standard (1 - 3 Business Days w/ Expedited)

Canada: 5 - 10 Business Days

UK & EU: 3 - 7 Business Days

Australia & New Zealand: 8 - 20 Business Days

Rest of the World: 5 - 10 Business Days